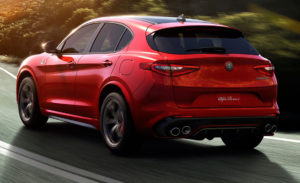 Alfa has always been hailed for its gorgeous black saloons. But this year the automobile giant chose to take a different tread altogether by plunging into the SUV track. Alfa Romeo Stelvio is the first SUV from the company which is all set to stun us with its elegant looks and solid make. So, what's in store for us? Well, here goes a brief review on the first SUV from Alfa Romeo.
To start with, Stelvio shares some of its features with its predecessor Giulia saloon- especially when it comes to hardware. You will find the same striking nose that amazed you in Giulia. However, according to experts, Alfa Romeo Stelvio sports a more stunning contour with truly attractive curves. Those who prefer a retro look with SUVs will surely give more brownie points to this new SUV.
The car comes powered with 2 l turbocharged engine (petrol) which delivers a good 276bhp, 295 pounds feet of torque and 2250rpm. You have a true performance crossover here. However, there is another petrol option that extends 178bhp. Alfa Romeo Stelvio is backed by Multiair 4-cylinder motor which runs decently smooth. Now, you also have a diesel (2.2l) option here which comes with two variations- 178bhp and 207bhp. The car has shown a pretty firm ride and it also comes with hill-descent facility.
The experts were expecting little more power to the engine though. According to the engineers from the company, they might go through some hardware change to boost the power.
What about speed? Well, the first-ever Alfa SUV hits 0-62mph in around 5.7 seconds. Yes, it's not really that speedy yet it responds quickly to throttle & spins to around 6000rpm easily. The car is further equipped with an 8 speed automatic transmission.
Stelvio boasts a rich aluminum make which it both lightweight and durable- not to forget extremely classy. From the bonnet to tailgate to doors to sub-frames to suspension- everything is made of alloy. This 4-wheel mid-size SUV weighs around 1659kg which renders it a fantastic competitive edge to Jaguar F-Pace.
What about the interior? Does it look as glam as the exterior? Yes. You have a pleasant cabin here that makes mark with elegant wood finish and leather wonder. In fact, Alfa has been  very particular about treating the riders with a true luxury experience inside the car. You have a huge boot here and the car's rear seats split-fold easily into 40/20/40 portions. Stelvio also impresses with its power tailgate, many shopping hooks and multiple cup holders.
All in all, if you have been looking for a 5-seater premium family car, the new release from Alfa is sure to blow your mind.