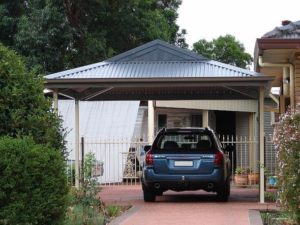 Buying and constructing a carport is a superb idea for anyone who wants to ensure that their vehicles and equipment are kept fully protected from the outdoor elements such as rain, hail, winds, and snow but are unable to fit those vehicles or equipment in your garage.
There are many different kinds of carports that you can buy, like you can see here on Carports and More, and choosing a specific one for your vehicle comes down to a number of key factors that we are going to talk about now.
Here are the top tips for choosing the right carport for your vehicle:
What Type Of Vehicle(s) Do You Have ? 
There are different designs of carports made for different kinds of vehicles. The carport that you would buy for protecting your RV or travel trailer is not the same one that you would get for protecting an SUV or small sedan.
If you are looking for a carport that can protect a sedan or small SUV, then your best bet is probably going to be the regular 12×21 size. On the other hand, if you want to protect a larger SUV or a full sized pickup truck, then you're going to need something larger that can accommodate a larger vehicle.
What Is Your Environment Like ? 
Think about the environment you live in and the weather you have to contend with each year. Do you live in an area that's more tropical but more vulnerable to rain, or do you live in an area that gets brutal winters and blizzards ?
If you live in an area that gets a lot of snowfall during the winter, for example, you would be best served by a carport that has a vertical design for the roof, so the snow will slide down instead of piling up and causing potential damage.
Regardless of where you live in, a carport can prove to be an invaluable investment because it can save you hundreds or even thousands of dollars that you may otherwise would have been forced to spend on repairs to your vehicle.
Think Ahead To The Future  
You also need to take the future into account as part of your overall buying process. If you plan on purchasing another vehicle sometime in the future, it would be wiser to buy a larger carport now to accommodate both vehicles (even if you don't anticipate buying another vehicle for a couple years).
Or maybe you plan on keeping other vehicles or tools protected under your carport as well, such as snowmobiles, motorcycles, ATVs, UTVs, or power equipment. It will definitely be preferable to have a carport that is too large (at least for right now) rather than one that is too small.
Choosing The Right Carport For Your Vehicle  
A carport serves as an excellent addition to any home or garage for those of you who are unable to fit your vehicle inside of your garage.